Hi there! I'm Kelly – food allergy mom, blogger, and breakfast lover.
Making a satisfying breakfast was one of the things that I found difficult when I started eliminating foods from our diet. Not being able to eat eggs, dairy, or gluten makes finding good, healthy breakfast recipes difficult.
And if you're rushed, you might be like me and tend to just grab a bowl of cereal or a piece of toast (gluten free, of course). And a quick meal like that isn't going to stick with you.
As I spoke with my readers about their challenges when dealing with food allergies and intolerances, breakfast was the meal that everyone kept mentioning. Since I was very familiar with this struggle, I decided to put together a breakfast ebook.
What will you find in this healthy breakfast recipe ebook?
This ebook contains 20 breakfast recipes that are free of gluten, dairy, eggs, soy, and tree nuts, and they are able to be made ahead of time! Do the work the night before, and wake up to a healthy, filling breakfast the next morning.
There are recipes for:
overnight oats
chia pudding
no-bake energy bites
no-bake granola bars
baked oatmeal
granola
All of the recipes are so easy to prepare ahead of time, and they are truly delicious! They're free of dairy, eggs, gluten, soy, tree nuts, and sesame. There are two recipes that contain peanut butter, but they could be made using sunbutter or another seed butter as a substitution.
Ten of these recipes are favorites from my blog, and the other ten are recipes that are not published on my blog. They are all simple, straight forward recipes – there aren't any tricky things to do to prepare, and there aren't any weird ingredients. These breakfast recipes are ones that you will reach for again and again!
Who is this ebook for?
busy families
people who are new to cooking for food allergies or intolerances
people who LOVE breakfast
those of us who are stuck in a boring breakfast rut and want to get out!
anyone who wants to eat a healthy breakfast with minimal preparation time
Buy Healthy Make-Ahead Breakfast Recipes today! Just click the button below to buy your copy now.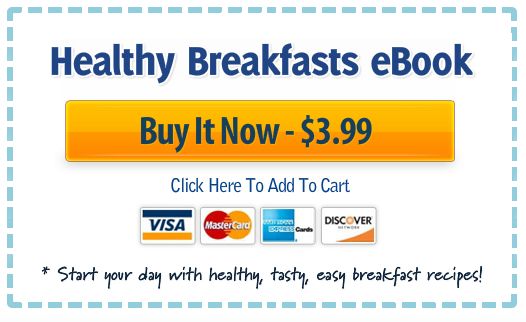 This ebook is also available for Kindle HERE.
Thank you for taking some time to learn about my newest ebook! I appreciate my community of readers – thank you for taking the time to read and share my recipes.